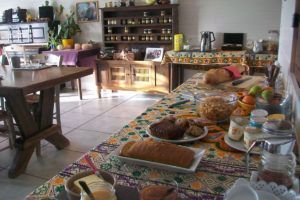 The house articulates goshawks of our big room to be eaten giving on the terrace where the breakfasts are taken, meal. You will find there at disposal fridge, kettle, teas, infusions,…
We propose 3 rooms with the modern style to you, air-conditioned, of lime pit foot with bay windows opening on a privative terrace with living room of garden..
They are equipped with a television set and a storage unit. They have a shower-room and WC independent, dries hair, dries towels.